Instagram Stories have the potential to draw more eyes than posts because, while posts can get buried in a feed (algorithm or no), Stories play one after another.  So as long as someone is following you, it is likely they will see your Story.  So how do you keep your audience engaged in your Stories?  These 9 tips are key… And they're fun too!
1. High Quality Images
While the temporary nature of Stories may lull you into thinking that the quality of your images doesn't matter, they still do.  Instagram Stories provide filters but you can also use a third-party app like VSCO to edit the photo before posting.  I like to lighten the image, improve color saturation, and sharpness.  You can also use stock photos or professional photography to get the quality that you need, as long as you add value through your text.
2. Use a GIF
A well-chosen GIF can be help to convey feeling, just like an emoji in a text message.  For example, in the Story below, the laughing cat was used to convey a bit of lighthearted sarcasm. I also like to add a subtle sparkle, by putting little stars around part of an image to highlight it, but always ensuring the use is tasteful and adds value.
Bonus Tip: Sometimes after adding a GIF, the quality of your Story will go down.  I recently read (in from a Story from @instawithalex by the way!) that if you add the GIF, save the image to your camera roll, and then upload to your Story from there, the quality is better. Genius!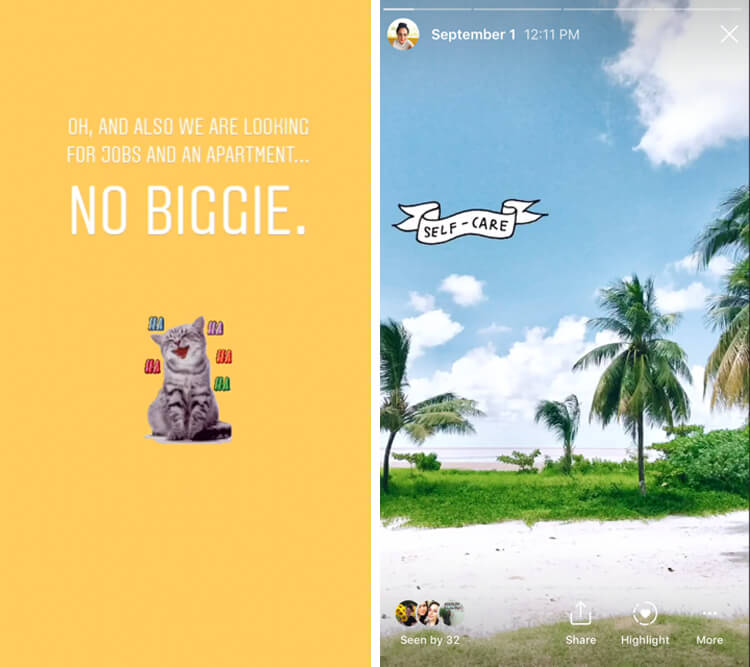 3. Play with text
Thank goodness we have more font options on Stories now!  But you can still use the old tricks from the one-font days to jazz up your text.
> Put a space between letters of a word to give it more impact.
> The Strong and Modern fonts adjust to fill the full width so you can edit the text and create breaks to make some words bigger, thereby emphasizing them.
> To create a 3D or shadow look, type your text in one color, copy and paste it in another color, and layer one over the other but slightly off.  This is good if your image and text are similar colors because the shadow makes the text easier to read.
> Arrange the letters of a word in an unusual way to keep it fun. See the example below from @mre.soeur.
> Make each letter or word a different color.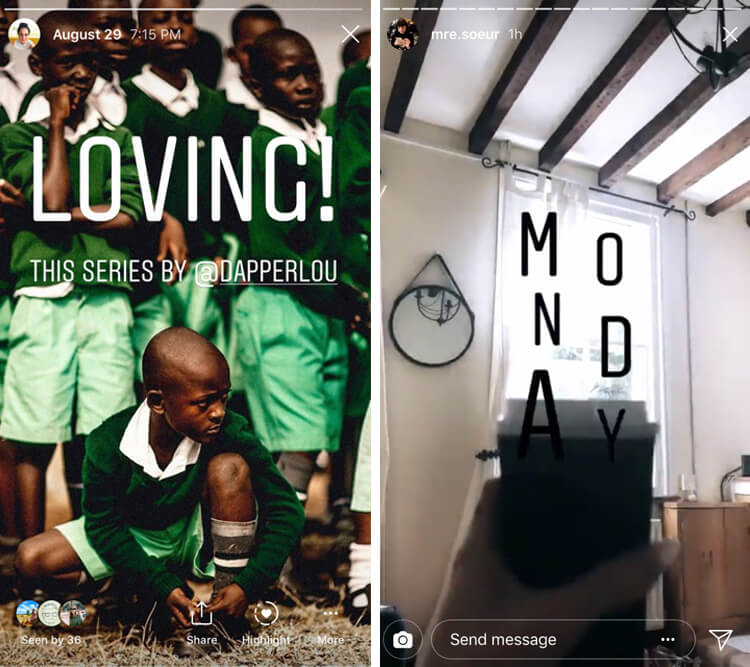 4. Boomerangs
Like GIFs, Boomerangs should be used in moderation; too much swinging around and you could give your viewers motion sickness. But there are a lot of fun results that happen when you play with Boomerangs. I like to use them on subtle motion, like leaves blowing in the wind. You can even use them in place of a still photo because your own breathing or hand motion will create a slight camera jiggle, breaking up the monotony of a Story feed full of still photos.
5. Draw on the Image
Drawing on your image can be as simple as drawing an arrow to point out something.  I personally like to use the very fine tip pen option but you can play with what works for you, even using a combination of writing and text.  If you're really serious about drawing on an image, buy a stylus to get the most control.
6. Add a Color Overlay
You can add either an opaque or sheer color overlay to your images.  First add your picture, then select either the pen icon (first icon for an opaque overlay) or the marker icon (second from the left for a sheer overlay), then pick a color, and press and hold on the image.  This will create an overlay of color where you can then enter text or erase strategic areas to create interest.
7. Talk to the Camera
This is one that I've been intimidated to try but it's something that I love to see others do so I know I will get on the bandwagon eventually.  Some like @bettymagazine and @livpurvis (current faves!) seem to keep up a continuous conversation with their followers throughout the day.  While I don't think I could ever be that brave, there is something to be said for being the human face on your business and really connecting with people.
Bonus Tip: Since 85% of Facebook videos are watched with no sound, and that ostensibly applies to Instagram as well, always add some text– just a few lines– to your interview style videos to sum up the message.
8. Record your Screen
In iOS11 you can record your screen to video.  So take a video scrolling through a recent blog post or a stocklist and post it, always including a call to action such as "Click the link in bio to read my new post."  Or you could make an instructional video, teaching your audience how to solve a problem or find an item on a site.
9. Add text progressively
If you have a long message to convey to your audience, instead of dumping it all on one image, add a few lines to different images in a series.  Or you can add one line of text, post the image, then use that same image to add a second line of text and so forth.  This way, as your readers click through, it appears that the text is popping up on the same image.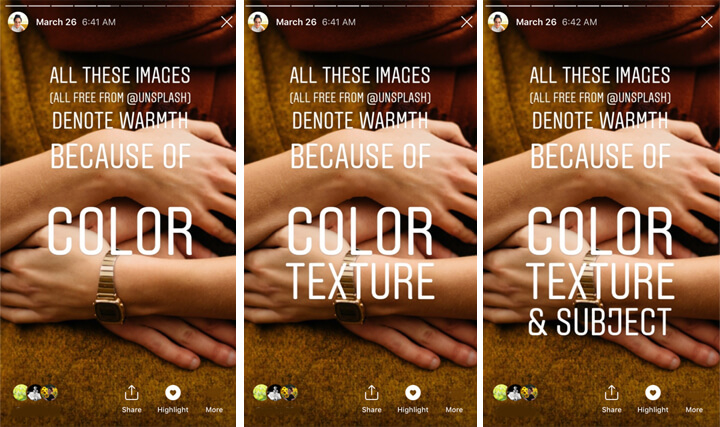 These are some fun ways to use Instagram Stories and to increase engagement.  Give them a try and let me know how it works out!  Leave a comment or tag @dionnedesign in your Story!