Its easy to fall under the spell of the tragic Margaret Kilgallen. By all accounts she was an enigmatic artist and since her premature death, days after the birth of her daughter, she has been elevated to the status of saint. But what few talk about is what happens to those that the saint leaves behind. This New Yorker story A Ghost in the Family tells that story.
After Kilgallen's death in 2001, her husband Barry McGee, also an accomplished artist with the Mission School in San Francisco, was broken and struggling to care for his new born daughter. Eventually he married Clare Rojas, an up and coming artist in her own right. Rojas had revered Kilgallen and Kilgallen and McGee had, in turn, treasured the cassettes that Rojas had sent them. Rojas and McGee's marriage created a strange sort of love triangle with the two of them and the memory of Kilgallen.
Rojas was not only raising Kilgallen's infant daughter but was trying to find her own voice artistically. Rojas speaks of their situation with equal parts acceptance ("Are we supposed to be over her?") and frustration ("It took me a long time to figure out that what he was encouraging me to paint was either very similar to what he encouraged Margaret to paint or what she did paint.") Ultimately though, there is peace, love, and, yes, artistic accomplishment.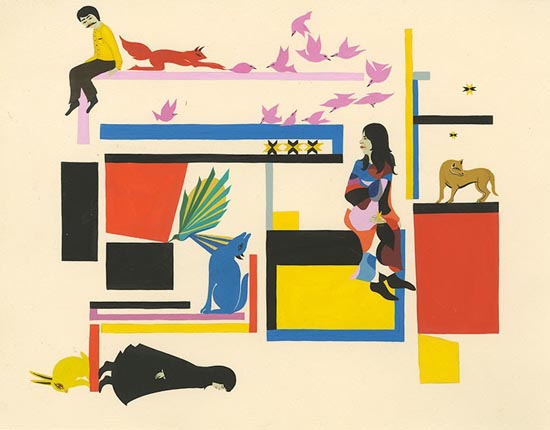 But what I find most compelling and was was the big discovery for me was Rojas herself. Her artistic style, while compared to Kilgallen's, is her own unique melding of folk and street art. Her most recent work has dispensed with figures altogether and relies on only the shapes left behind.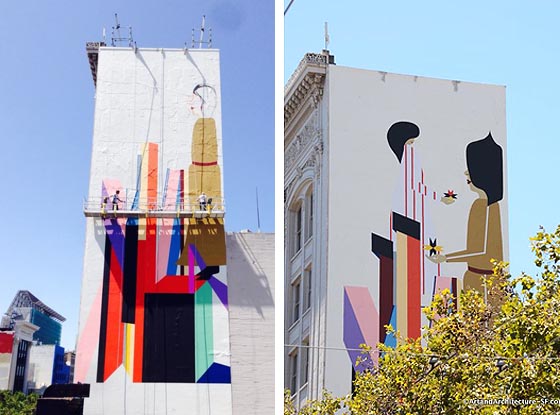 Additionally, I am so in love with her music! Early in her career she put aside her paint brush and donned the persona of a Peggy Honeywell, a Loretta Lynn type folk singer who sang sweetly and simply.
Listen: Miss Communication by Peggy Honeywell (aka Clare Rojas)


Cover art which Rojas created for one of her 2005 album, Faint Humms. [buy]