Just as on your website and print materials need to be on brand, your social media accounts need to project a strong visual brand identity as well.
Here are five areas to pay attention to when considering the branding of your social media accounts.
1. Account Names
Get off on the right foot by making sure that all of your social media platforms use the same name or a reasonable variation. It can be confusing for customers if they find you on Instagram with one name but then search on Twitter and can't find you because you have a different name there.
Granted, competition for social media handles can be tight. If your company name is not available, consider using abbreviations like "inc" or "co" at the end.  Try to eliminate unnecessary periods or underscores between words or unnecessary numbers at the end (coffeeshop_783). Keep your name simple and easy to remember.
2. Branding
Social media accounts allow for customization in a three primary areas:
Logo: Your logo or a variation of it can be used as your profile image. Here we see that sparkling water company Acqua Panna uses their logo as their profile image on both Facebook and Instagram.
Color palette: Your goal is to make your brand recognizable simply by your color palette. Acqua Panna uses a signature bright orange on their Instagram Highlight covers.
Bio and boilerplate: While there is room for variation due to word count or functionality of each platform, your bio should be essentially the same across all social media platforms. Again, Acqua Panna uses their tagline–  "Natural Spring Water from Tuscany. Crafted by nature. Perfected by time. For the smoothest taste."– on both accounts.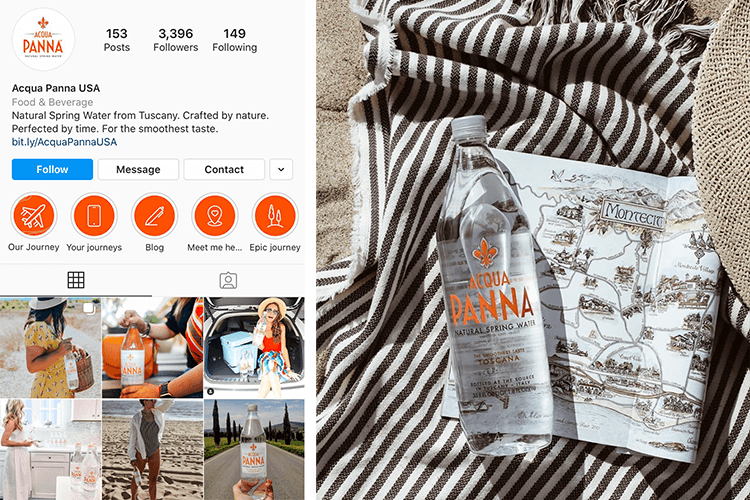 3. Aesthetic
What you choose to post should to follow a consistent aesthetic. The same colors and fonts of your brand should be woven through whatever you post on social media, including videos. The goal is that over time your customer will be able to recognize your posts, without even seeing your logo or handle.
Tip: Create graphic templates in Canva, Illustrator, or Photoshop so that the same types of posts have a consistent look. For example, all notifications of my blog posts have the name of the post within the two slashes which are part of my logo. I use it both in the blog post header image and in my social media images, like the one for Instagram below:
4. Voice/tone
The tone in which you write your social media captions and posts is also important. The tone can be professional, casual, cheeky, educational, trendy, etc. Whatever voice you choose, it's important to speak like a human being. Writing too formally can be a turn-off for many followers.
If you have several persons creating content for your social media, you should give special consideration to the tone. For instance, are they "clients" or "customers", "team members" or employees? Determining this terminology in advance will keep your writing voice consistent.
Along with that, make sure that your tone is not one-sided. Rather than solely promoting your product or service, stay open and conversational in your writing. Encourage feedback from your audience by asking questions and responding to their answers.
5. Photographs
Whether you are using stock photos or originals, the photographs you choose should still represent your brand. They should be in the same color palette and reflect the mood of your brand.
Again Acqua Panna does a great job with this.  Their colors are a bright and punchy orange and blue and the vibe is based around Italy, travel, and youth. You can clearly see it in their Instagram grid (above) and in the photos that I've chosen below.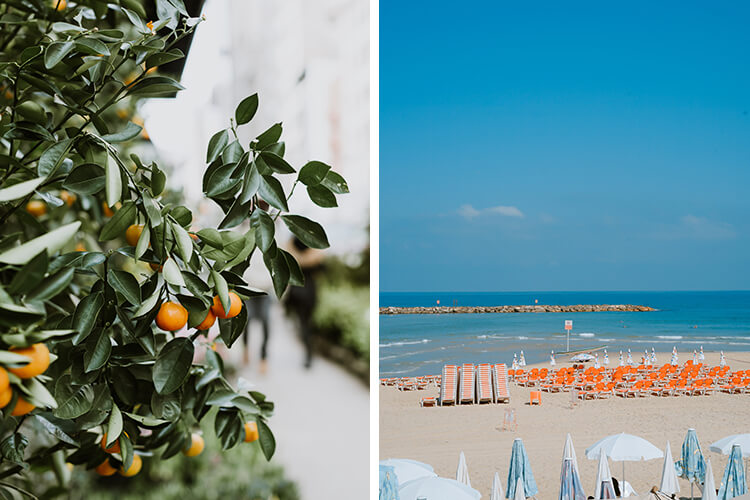 Keeping your branding consistent across all of your social media platforms– as well as within each platform– will maintain a professional and inviting aesthetic which will draw customers to you.