Palm Springs– that mid-century modern design mecca in the desert– has has been on my travel list for a while. Despite having lived in California for two years and visiting several times since, somehow I never made it there! So when we went to California in October, we decided to finally make it happen and I'm so glad we did! It's now become one of our favorite vacation destinations and we constantly dream of being there, especially during this cold, cold New England winter. (Watching Desert Flippers only encourages our obsession.)
And with this week kicking off Modernism Week in Palm Springs, I thought a revisit of our trip would be in order.
The desert landscape itself is a wonder to me. The wide open space, the rock formations, the endless sky are all fascinating to me; I can see why so many people consider the desert to be a spiritual, clarifying place.
And I can't talk about Palm Springs without talking about the Cabazon Dinosaurs! Featured in many 90's films, they bring up a lot of nostalgia for my generation. My husband wasn't feeling well so somehow it didn't register to him where we were stopping until we pulled off the highway but then he was so excited!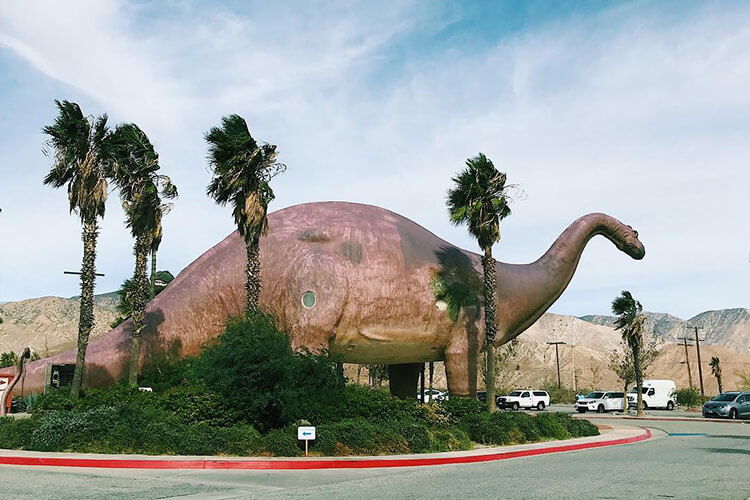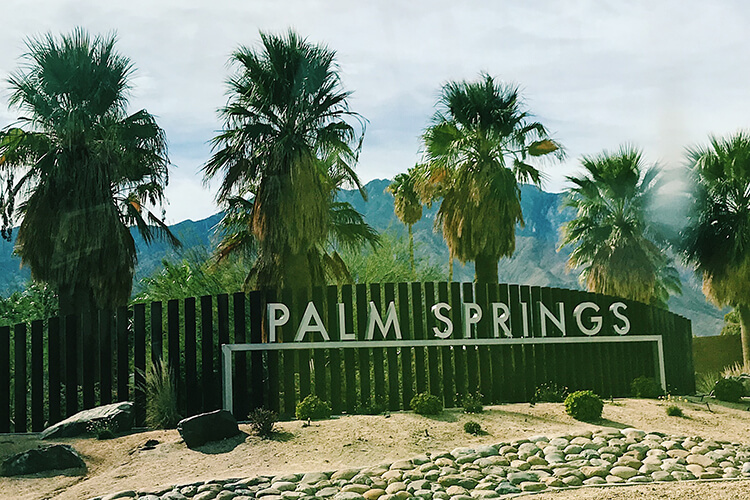 After that we headed right into Palm Springs and checked into our hotel, the Orbit Inn.
The Orbit In isn't one of the flashiest or trendiest hotels (and the website could use an update) but we chose it for the authenticity of the design. It is a former apartment complex which was converted into hotel suites with the original elements restored. There were a also a lot of amenities offered including a cocktail hour by the pool where we met the owner and other guests, giving it a real community feel. We could imagine visitors to Palm Springs in the 50's and 60's conversing with fellow visitors by the pool in much the same way!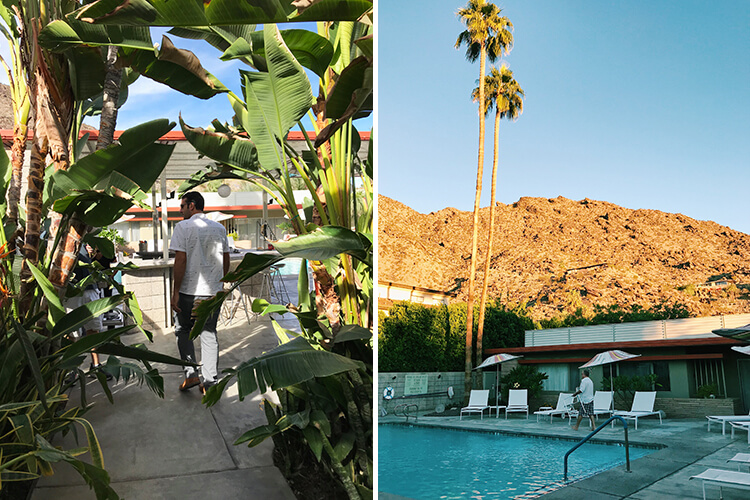 Our room was the Rat Pack room which had so many amazing mid-century decor and features, including the original kitchen and bathroom.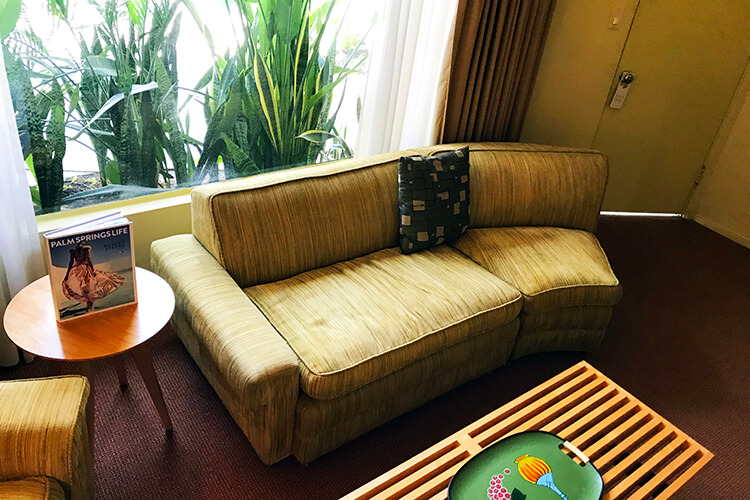 This pink bathroom was to die for! The vanity, the double mirror, the natural lighting… I could have moved in!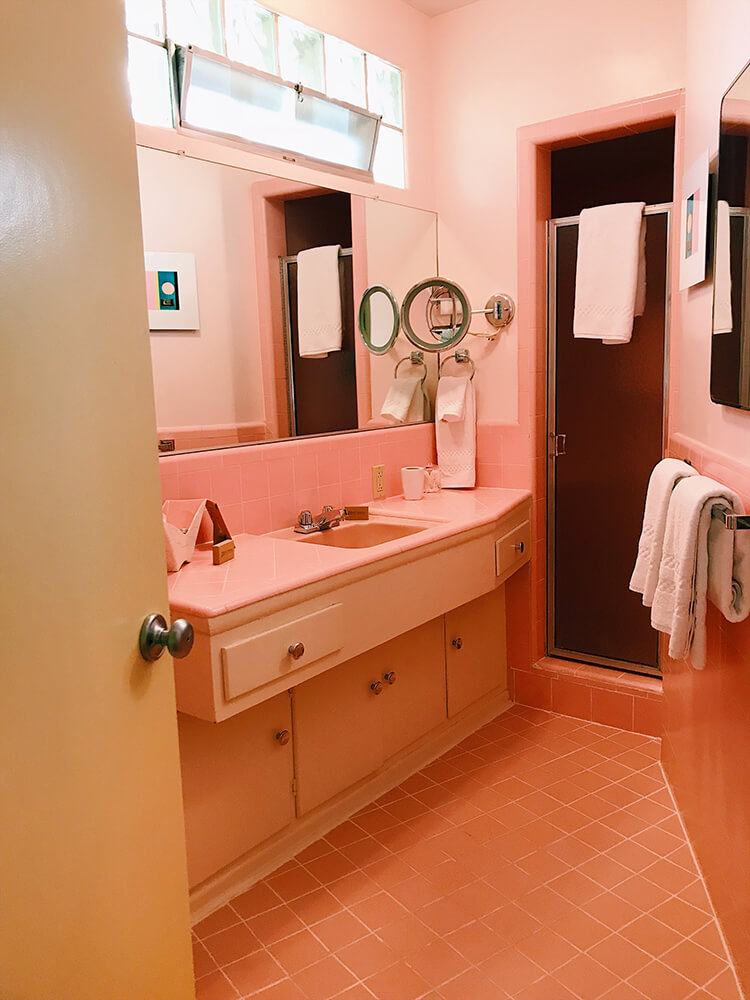 We had been really sold on the idea of record players in every room! The office stocks a full wall of vinyl to suit every taste and mood. We felt like we were stepping back in time!
Since my husband wasn't feeling well, we decided against going out to dinner and ordered some Japanese food in. We had stayed with friends in San Diego and got spoiled using Door Dash every night. :) Afterwards we tried out the fire pit and the hot tub, which we had to ourselves.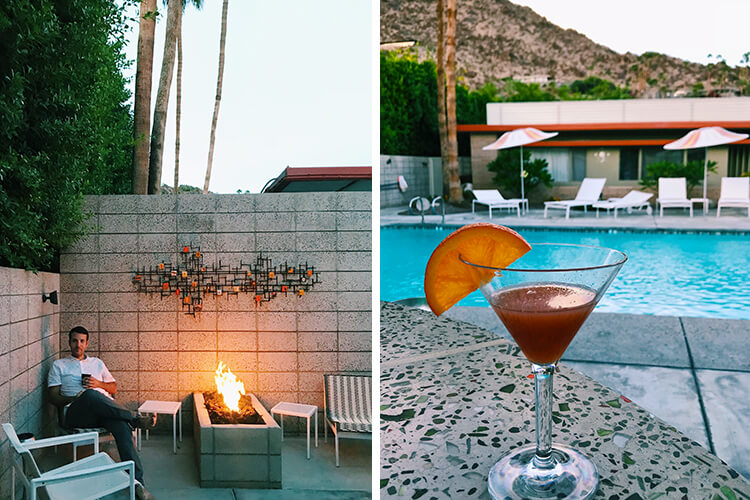 The next day we went to out to brunch at the Parker Palm Springs.
I have to admit, I didn't want to fall in love with it since every blogger ever has posted photos of that "Drugs" sign in the lobby, but I couldn't resist its charms. Designed by Jonathan Adler, it was over the top in all the best ways with bold art and decor at every turn!
And the brunch at Norma's on the patio was incredible! The food was inventive and well prepared, the service was friendly, and the decor was on-point.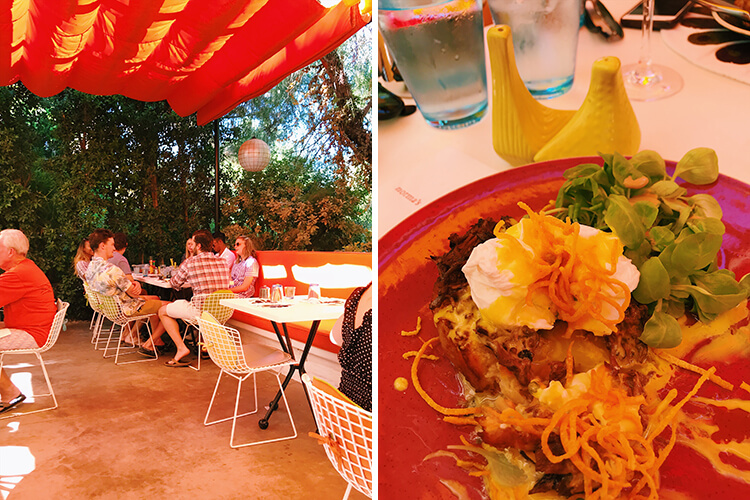 After brunch, we spent some time just hanging out in this lounge, trying out every couch and chair. Again, it was as overstuffed as your grandmother's basement, if your grandmother had amazing taste and a truckload of mid-century modern furniture. That fireplace is unbelievable and the wall of macramé owls are genius. With half the furniture, I could live in this room!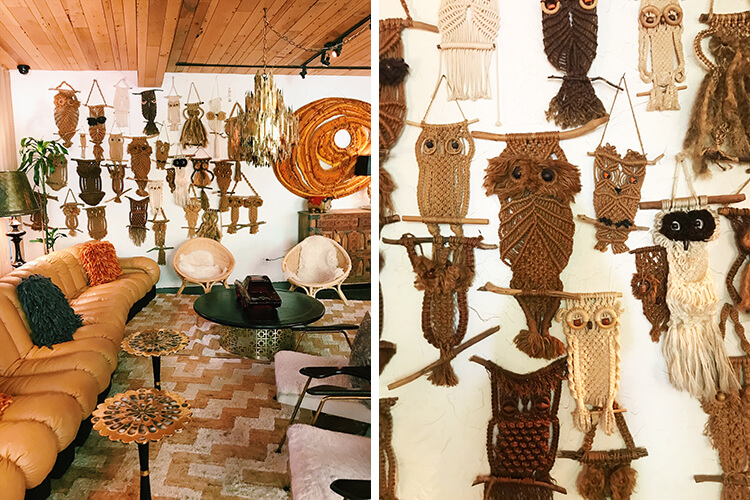 With my husband not feeling well and our limited time, my list of classic modernist places to visit was narrowed down to the famous Frey Tramway Gas Station, now converted– appropriately enough– into the Palm Springs Visitor Center. It was difficult to take a photo and capture it all but I tried.
We also visited a couple vintage shops and a cafe. But really, there were mid-century modern gems to be found at every turn, in the pattern of tile, in the color and curve of a wall, in the placement of a palm.
We only had one night booked in Palm Springs but we wanted to extend our stay so we rented a place outside of the city, in the mountains.
I was glad we had rented a Jeep because our Airbnb was up in the San Jacinto mountains and off the main road. The place was simple but so quiet; we felt like we were the only people for miles. There we experience a final work of art: a sunset which changed hue and color before us. I am convinced that desert sunsets are like sunsets nowhere else.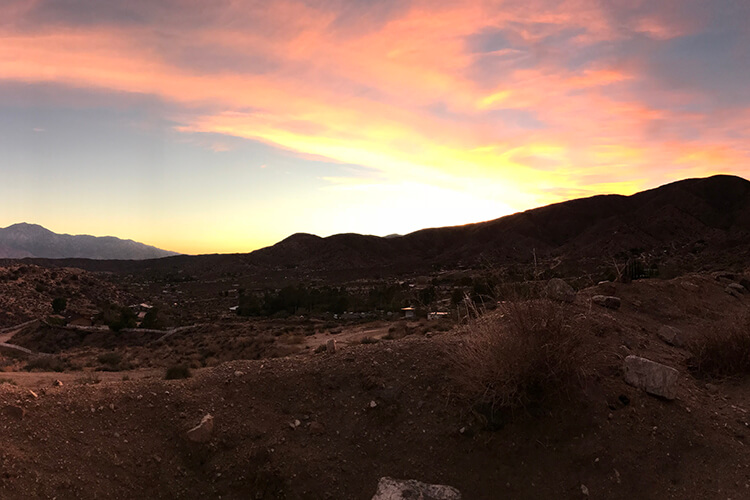 The next morning we headed back to San Diego for a few more hours of exploration before our flight back to Boston. This time we took the southerly route which took us through the mountain switchbacks. We even saw a coyote cross the road!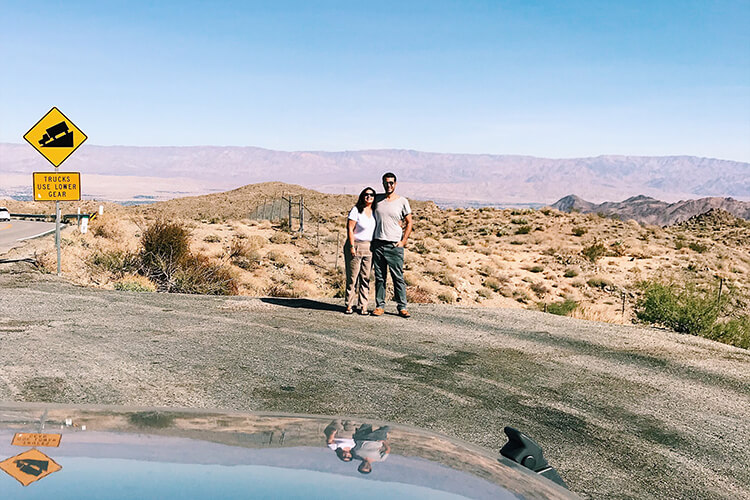 Now, during these cold winter months, we dream of Palm Springs and the next time that we can enjoy that beautiful design oasis in the desert.