At our wedding, we had a banner hung which read "Oh Darling, Let's be Adventurers." And I'm delighted to say that after nearly three years, we still have tiny, every day adventures together.
I attribute this to the fact that both my husband and I are of a type who are motivated to seek out something out of the norm. So instead of cooking a dinner at home on a Wednesday night, we pick up scallops and Prosecco and grill them at the beach.
Scallops from Pine River Fish Market, Revere MA.
This might be the most beautiful plate of food I've ever seen! Grilled scallops with mango, prosciutto and arugula salad.

Another Wednesday adventure was an impromptu visit to the North End. I had a doctor's appointment in Boston and he had a job in the Seaport but we met up at noon and had lunch at a quintessential Italian eatery Galleria Umberto. It's a totally no-frills experience.  You order your food at the counter and everything hovers in the $1.50 range.  Wine is served in dixie cups.  And although the section I photographed has tasteful yellow walls, white subway tiles and cafe chairs, the other side of the restaurant features two truly hideous murals.  But it's cheap, delicious and an authentic Italian experience!
Afterwards we got an espresso at another favorite of mine, Cafe Paradiso.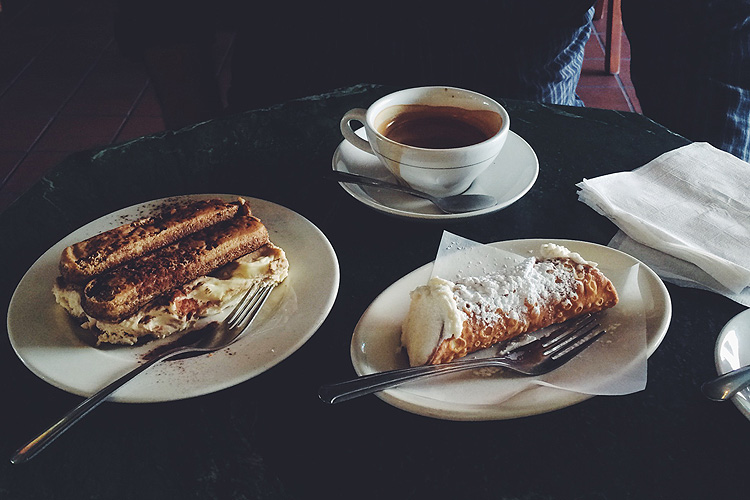 And finally, curiosity sent us down a narrow alley where we found a delightful bakery and salumeria in Bricco.  We ogled the basins of octopus and artichokes and coolers full of exotic fresh pastas.  Outside the salumeria is a roofdeck with couches for lounging and eating your fresh deli sandwiches.  We made a mental note to come back with an empty stomach!
Here's to more adventures every day!