Well, our trip to Goa has come and gone… there's a pun in there somewhere, I'm sure.  I felt like I was constantly snapping photos during the 10 days we were there, trying to capture the feeling.  I also took some videos, capturing the ambient noise of the places we visited– birds in the trees, the sound of the ocean, children laughing– and I go back and visit those sometimes still.  These things do help me hold on to the feeling some, but mostly– even just a few weeks later– it just feels like a dream.
The first place we stayed in Goa was a quaint collection of huts called Buddha's Garden in Morjim, on Ashvem Beach.  Each little house in the garden is unique and ours was covered with paintings, a patio at the top of our house from which we could see a sliver of the Arabian Sea and which had a great breeze, and the bathroom had two little frogs which kept us company during our entire stay.  It was the most rustic of all the places we stayed but was a great first exposure to the tropics.
Our first morning, we walked down to the beach and watched the dogs roaming, the fishing boats in the sea, and the yoga enthusiasts.  We also saw this one bull being led down the beach and then back.  I'm not sure what the purpose was, but it made for a beautiful photo!  I was looking forward to cows on the beach and expected that would be the extent of it, but it was not.  Not by a long shot!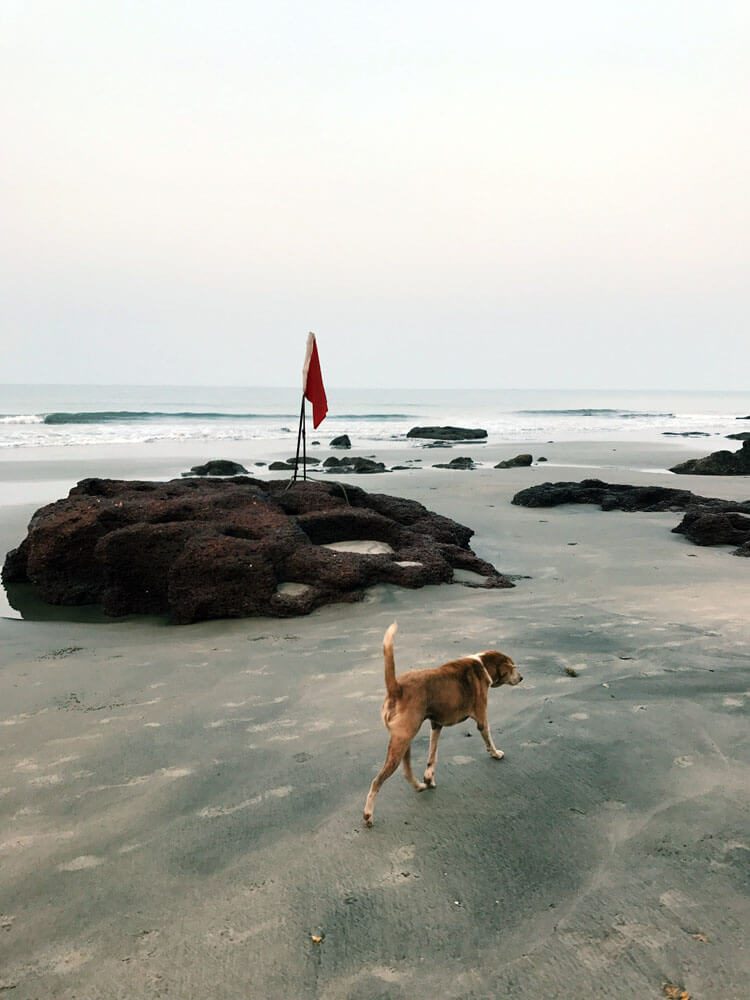 On that walk, we scouted out a beach side restaurant and went back an hour later when it opened for breakfast.  I had read about La Plage before this trip and had noted that I wanted to go there.  Little did I know that it would end up the only place that we went for breakfast, lunch and dinner during our three day stay at Ashvem.  This beautiful French restaurant is right on the sand (no use wearing heels!) and has cool artwork hung along the periphery of the open air space.  It also features a collection of boutiques and a massage studio.
After breakfast at La Plage, we spent the day on Ashvem Beach.  The water was warm and inviting and we lazed about and had (illegal) gin and tonics.  For those first few days, it was illegal to sell alcoholic beverages in restaurants or liquor stores because of a pending election.  I suspect that this law caused Ashvem to be more subdued than I had heard it would be.  I'm joking about the drink being illegal.  It was the selling of alcohol which was illegal for those days but we had brought some gin nips with us.  And of course we had to have fresh coconut water!
The next day, we decided to walk two miles to the village of Morjim, in search of an ATM.  It was a hot and dusty trek– and we took a cab home!– but it was wonderful to see real village life.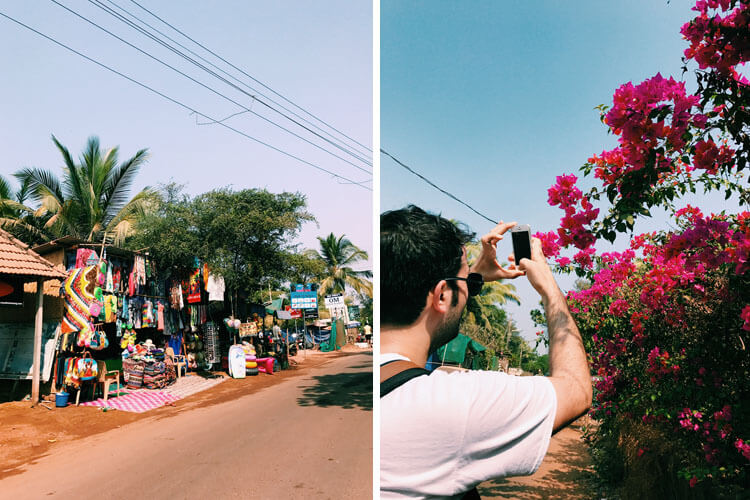 Later that same day, we took a taxi and went to a beach I had heard of further south… and that will require it's own blog post.  Stay tuned!  In all, I have five posts planned on the different areas of Goa where we visited. #sorrynotsorry
All posts about Goa: