In planning for this trip, I relied heavily on certain expat blogs, in particular Hippie in Heels.  I even emailed with some questions and Rachel was very helpful.  One thing that I remember distinctly from her blog is that she said one of her favorite days was going to Vagator beach and then eating lunch at Thalassa.  I tried to get a hotel there but it didn't work out and I wasn't sure if we would be able to go there at all.  But one afternoon, we decided to take a cab down and I'm sure glad we did!
We started with lunch at Thalassa, a Greek restaurant on a cliff, overlooking the Arabian Sea.  With the warm breeze, the quiet music, the white washed everything, you really felt like you were in the Mediterranean!  I had been taking little 360-degree videos to help me to remember the feel of the place and the one I took here captures my husband saying "I did not expect this to be anything quite this beautiful!" and I entirely agree.
After lunch, we walked down to the beach and set up at some of the loungers.  This beach had so many cows!  Beautiful Brahman calves and their mothers wandered through, sniffed at our hands, and then seeing that we had no food, moved along.  There was even a giant bull resting near the water's edge. And of course puppies and beach vendors.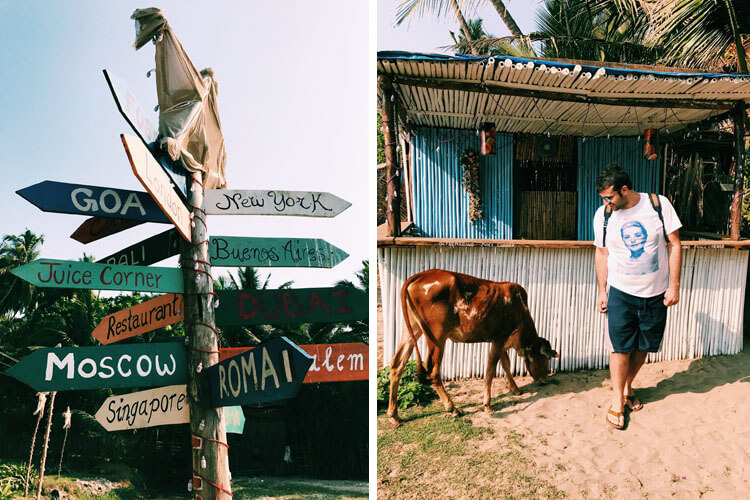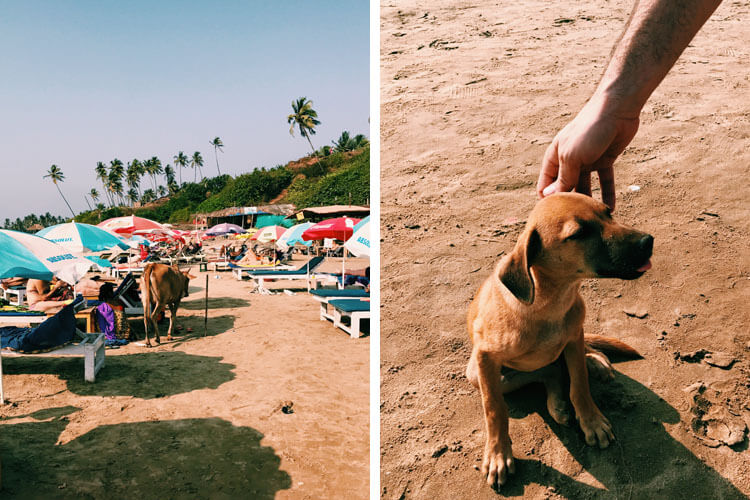 Below is the earth bowl, an art piece created in 2011 by artist/sculptor Subodh Kerkar.

One "sight" that I had wanted to see was Shiva's face carved into a rock at the end of the beach.  So, at sunset, we found her a bit worse for wear.  Her nose had eroded off and the sand had filled in under her chin.  And worse of all, girls were doing fashion poses on top.  Poor Shiva!
The sunset here was spectacular and we understood why everyone books tables at Thalassa for the sunset.  We booked our sunset dinner here for our last night in Goa, a week from then.
Next up: Touring the capital of Panjim!  That post will be publishing on Monday morning so check back then!
[tsmall text="All posts about Goa" align="left"]
All posts about Goa: