From the gas tank to the engine,
Ambition sets the pistons on fire,
And when you feel the distance in an empty bed,
Lord you'll know you're the woman of a hard working guitar playin' man.
I come from a quietly unconventional family and I'm so happy to have married a quietly unconventional man. The result is that we end up doing some things that the average person would categorize as "crazy". Like driving 10 hours overnight to Cleveland to see one of your favorite singer/songwriters.
Rocky Votalato plays really beautiful, heartfelt music. And every few years he plays a tour of "living rooms." So we suggested to my sister, who recently moved to Cleveland, that she apply for him to play in her massive loft and she was accepted. And since Cleveland is a mere two hours from Detroit, the rest of the family drove down for the show.
First stop on the Cleveland tour was the Westside Market. Opened in 1912, the building itself  is beautiful with a 44-foot high tile vaulted ceiling.  The stalls are filled with fresh fruit, vegetables, meat and pastries (and pasties!).  A person could spend hours here!  I was particularly surprised to see a stall called Dionne's Meats.

At the show, Rocky came with minimal equipment and zero entourage and played an amazing set. About 25 people attended and everyone was polite and respectful. The beauty of such a small, intimate show is that it allows for improvisation and lighthearted jokes, of which there were plenty.

And of course a brunch on Sunday is essential. And along with it, this rare moment when I realized that I was surrounded by a group of exceptionally special people, both family and friends.

Hera are a few other photos from the weekend, in no particular order:

Clockwise from above left: Rubber duckies stolen (not by us) from an abandoned rubber ducky factory | the Zissou drink with a gummy shark! from Side Quest in Lakewood | checking tickets at the door | the door of a great vintage store, Sweet Lorraine.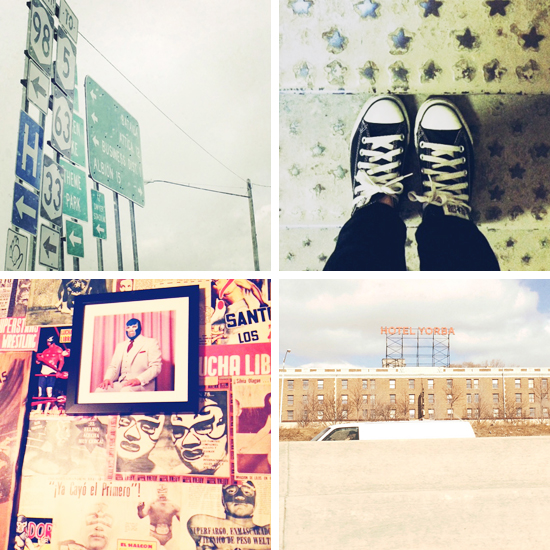 Clockwise from above left:  some highway signs in upstate New York | Converse on the stairs of the loft | the real Hotel Yorba in Detroit | art at El Carnicero restaurant in Lakewood.