"There is a city by the sea
A gentle company
I don't suppose you want to
And as it tells it's sorry tale
In harrowing detail
It's hollowness will haunt you
It's streets and boulevards
Orphans and oligarchs
And here's a plaintive melody
Truncated symphony
An ocean's garbled vomit on the shore
Los Angeles, I'm yours."
– Los Angeles, I'm Yours by The Decmeberists [listen]
I once said that if I ever moved back to the west coast, I would choose to live in Los Angeles over San Diego. I'm not sure that's true anymore. Both have their benefits, of course, but perhaps my pace has slowed now to fit SD more than LA. In any event, no trip out west is complete without a trip to Los Angeles! We started at my favorite place: the Disney Concert Hall, designed by Frank Gehry. This shiny, metal ship makes me so happy!
Then to Hollywood and the Walk of Fame, the throngs in front of Grauman's Chinese Theater and seeing a tawdry Cinderella and Captain Jack Sparrow on their way to work.
We stopped in Beverly Hills and found a vintage tag sale, run by a charming older couple. They set up every Saturday and there are many gems in their collection. I bought a sweet, red dress for $20.
I have a funny story about the Santa Monica Pier. Years ago when I was living in San Diego, my younger sister came to visit and I brought her to LA. She said that she had heard there was a ferris wheel by the ocean but I told her emphatically that there wasn't. But as we started to drive back to San Diego, there it was, lit up in all it's glory on the shore of the Pacific Ocean! She was a good sport about it but I wasn't about to make that mistake again, so we stopped and got a beer on the pier, people watched and laid in the sand and watched the roller coaster roll by.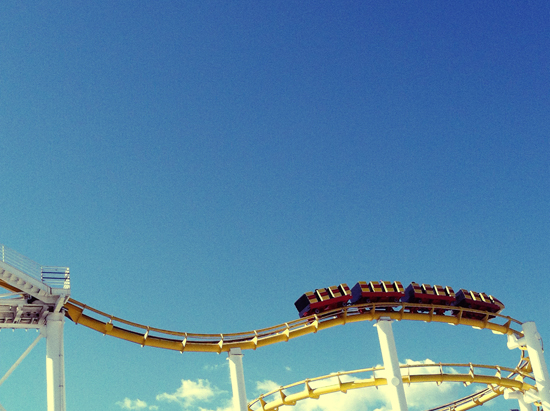 The next day, continuing down the coast, we stopped at my favorite beach in Laguna Niguel. It had been a few years since I had been there, so I wasn't sure I would find this little beach tucked into a residential area. And, in fact, when I started looking online, I was told that Laguna Niguel didn't even touch the ocean. So as we headed out, I wasn't sure what we would find. Finally, after passing through Laguna and seeing a few similar type beaches, I suggested we just pull over and go to one of them… and it ended up being the one! Evidently it's called Arch Cove and the section I like to go to is at Pearl Street. The cliffs are covered with beautiful flowers and there is a limestone arch which you walk through at low tide to explore the tidal pools.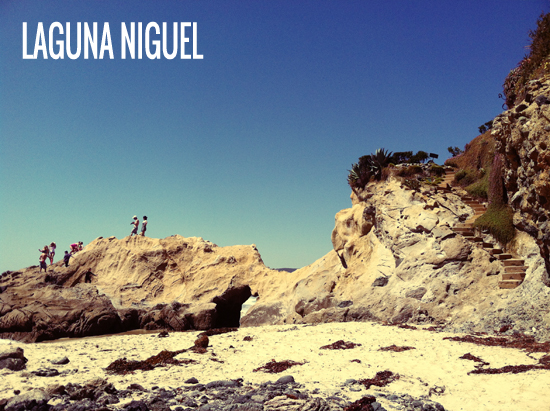 Finally, after a great evening with friends in Carlsbad (Thai food and Belgian beers), we headed back to San Diego, stopping for breakfast at Pannikin.

California, you did not disappoint!