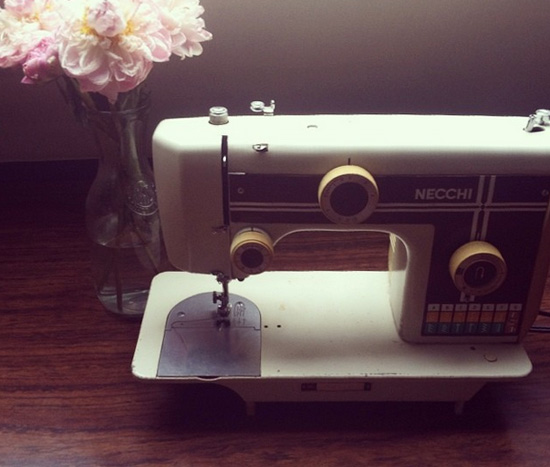 This beauty, this relic of another age, has re-entered my life!  This is the sewing machine I taught myself to sew on.  My mother was a seamstress and later, along with my father, an upholsterer, and she used this Necchi Model 523FA for years.  I remember coming home from school and sitting on her massive sewing table as she sewed and we talked about our days.
One summer, I got a vision in my head of a long, floral maxi skirt and I sewed it, without a pattern, and with a plethora of box pleats.  My mother was amazed, asking me who had taught me to sew.  Well, she had!   She had showed me how to sew day after day.
Since then, I've always had a sewing machine in the house.  It's essential for making tweaks to those not-quite-perfect pieces found at thrift stores.  Or I could whip up a knit top or dress in a matter of a few hours. But for the past few years I've had some rinky-dink, plastic machine with a horrible lock stitch. Finally, it lost all ability to change stitches and was stuck on a left-aligned, straight stitch and it ran really rough. I could have repaired it but I knew the repair would cost as much as the machine. What I really wanted was a machine of the caliber of that first one, metal and solid.
I emailed my mother to ask for the brand and she, instead, offered to send me the very machine! She wasn't using it and as it turned out, it cost less to ship it than I could have bought a used machine locally. Perfect! And not only that, this machine– the original one– has all the familiar markings that I remember, making it feel so nostalgic for me.
So here we are, reunited! And I'm embarking afresh on the sewing challenge.
In preparation, I started delving into the sewing blogs, looking for cool, un-crafty type inspiration and I found a group of cool seamstresses and pattern makers who create really amazing things. (I also discovered that they no longer like to be called "seamstresses" but "sewist", which frankly I find to be a bit awkward.)
These ladies sew everything from jeans to swimsuits to winter coats! Some of them make pattern, discuss wardrobe, and give tutorials.
. Madalynne
. Coletterie
. Katy and Laney
I discovered that patterns have changed too. Now you can buy a pattern online and print it out right at home!
. Victory Patterns (I'm totally making the Nicola!)
. Closet Case Files
Currently I'm disciplining myself to start with existing mending and alterations but when I'm ready to create, look out!