Okay, now that I have all the India posts out of my system, here are some things that have been going on "of late."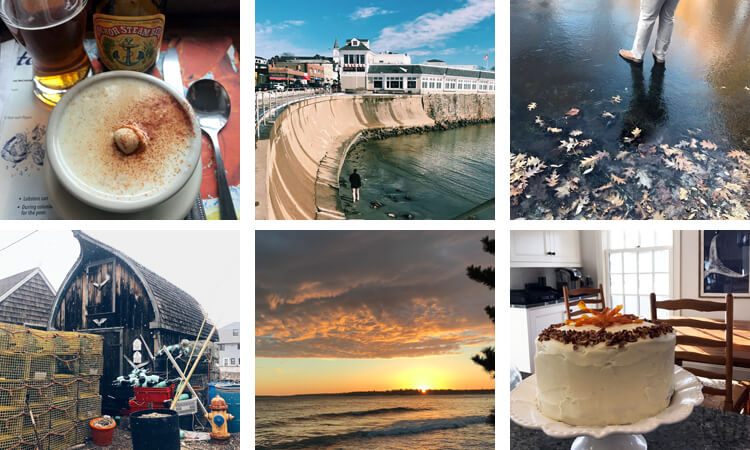 For the first few weeks that we were back, I found myself more active and more social than I had been in quite a while.  In spite of a snow storms and generally frigid weather, we were able to get outdoors a bit.  We watched the maple sugar making process at a friend's family home where we slid around on a frozen pond.  I also took a friend for an impromptu tour of Marblehead where we had clam chowder and climbed on rocks and contemplated the ocean.  Now on to the categories:
[tmain text="Reading" transform="uppercase"]
While traveling, I read The Handmaid's Tale and it turns out that I'm not the only one who has recently become interested in this 1985 dystopian novel. Of course the Spring 2017 release of a Hulu adaption of the book is part of that reason. It was a bit dark for a "beach read" but when I heard the premise, it immediately resonated with me.
[tmain text="Listening to" transform="uppercase"]
It's a hashtag world. I hadn't thought much about the need for hashtags on my Dionne Design Instagram account. I had thought that my audience would organically find me. Turns out, I could not be further from the truth: posting without tagging means that no one will see your images. Sara Tasker is an Instagram pro! Her account Me & Orla started off as a hobby but its exploded and she's parlaying that expertise into a consulting business (she has free resources too), as well as the podcast Hashtag Authentic. Not only have I gotten excellent tips, I've also received some great creative motivation from Sara and her guests. And their lovely English accents don't hurt either!  Mostly I love how balanced she is.  She never makes it seem like getting likes is a life or death proposition.
[tmain text="Watching" transform="uppercase"]
Honestly, one good outcome of travel is that I've been given a television detox.  We had downloaded a lot of Netflix movies prior to our trip but, in the end, we didn't end up watching any of them.  And that trend has continued.  If we're ever dead tired but just feel like vegging out, we might watch an old episode of The Office or Frasier, but that's it.  Proud of us!
[tmain text="Making" transform="uppercase"]

I finished a project!  One night when we were out with friends I found this mid century chair on the street and took it home.  I hesitated because I'm notorious for not finishing projects and, to be honest, this one did languish half-finished for a while.  The fabric was bought locally and on sale at that so the whole project only cost me about $10.  And we have a new chair for the kitchen, which is important because one of them is a bit precarious.
Oh, and I also made the beautiful and delicious carrot cake in the bottom right of the image collage at the top of the page, complete with candied carrot curls for the top!
[tmain text="Discovering" transform="uppercase"]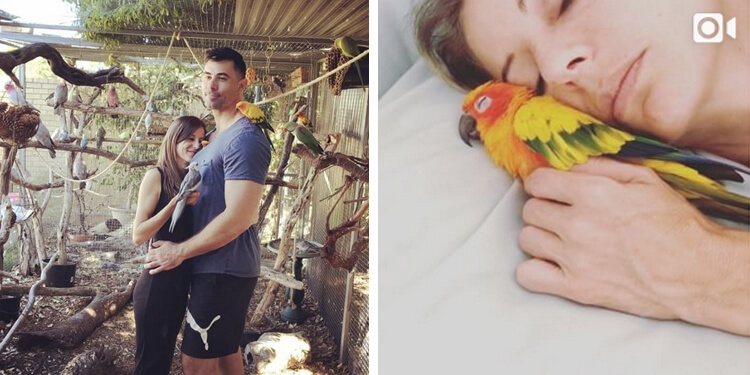 The Instagram @katies_birds is a delight! This girl houses and rehabs exotic birds and she has such a way with them. I never thought of birds as being cuddly or affectionate but somehow she connects with them and it's adorable!
[tmain text="Purchasing" transform="uppercase"]
My last check was earmarked for necessities (t-shirts and leggings mostly) but I did treat myself to this Uniqlo jumpsuit.  It's so comfortable and flattering too!  I feel like it's one of those pieces that you can dress up with heels and a clutch or dress down with flat sandals and a cross body bag.  I also imagine it would be great for traveling; almost like wearing a pajama onesie on the plane!
Casual:  flat leather mules | tote bag | nautical scarf
Dressy: orange heels | tassel necklace | leopard clutch
[tmain text="Anticipating" transform="uppercase"]
Along with everyone else in New England, I'm anticipating the end of winter!  … I just checked and technically today is the first day of spring, but I think everyone knows what I mean.  I mean the end of frigid temperatures, the end of treacherous snow and ice, and the end of strategizing everything you wear when you step out of the house and inevitably being wrong.  We're so close, you guys!  We can make it!