We are having unseasonably warm weather this past week and it's so, so good.
The above photo is one of my new favorites. It was taken at a favorite coffee shop and features the pop art piece "Kiss Kiss Kiss" by Tadanori Yokoo (1964). There's an exhibit at the Philadelphia Museum of Art through May and we just happen to be going in May so I'm very excited!
READING: I have been a reading machine these last few weeks!  I'm still a little miffed at the long waits for titles on Overdrive but I've started just looking for fiction among the available titles and have ended up with some nice surprises: Act of God by Jill Ciment and The Revenant by Michael Punke.  (By the way, if you don't plan to see The Revenant, reading the book is just as good or, for an even shorter read, this summary of Hugh Glass' journey from Avaunt Mag is great too.) Finally my holds started coming available so I'm currently reading H is for Hawk by Helen MacDonald.


LISTENING TO: There's always a new podcast… Currently I'm into Stuff You Should Know, Stuff You Missed in History Class, and 99% Invisible.  So much listening, so little time!
WATCHING: I finally finished the Spanish soap opera which became a bit ridiculous by the end.  And I'm always a fan of any incarnation of Project Runway so, not only is there a new season of Project Runway All Stars, but I also found an All Stars season which I missed on Hulu so I'm pretty psyched.
MAKING: I finally can say that I made something that wasn't just food!  I went to a wedding in January and whipped up a new dress the day before.  It was a black, one shoulder number which was much more appropriate and received many compliments.  And it's totally motivated me to do some more sewing so that's exciting.
PURCHASING: Winter always throws me for a loop.  With snow on the ground, I suddenly realized that I don't have any appropriate shoes/boots to wear out.  My favorite black booties are suede so that was a no go.  I found some non-suede booties I liked on ASOS but first they had a mis-typed the sizing list, skipping my size, so I had to bring that to their attention.  Then when I finally got them, it was a pair of sandals!  So I sent them back and am waiting for the refund so that I can re-buy them.  Sheesh!  I also bought a pair of tan mules for the summer.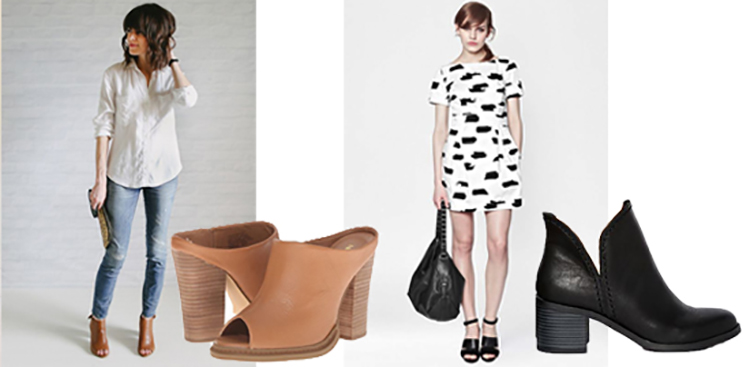 ANTICIPATING: Is it too early to start thinking about a summer wardrobe?  I've already started putting together an inspiration board of what I would like my summer wardrobe to be.  It relies heavily on those tan mules and a lot of sewing.
I'm also anticipating some travel. First a weekend away in our favorite, Rockport. Then a wedding weekend in Philadelphia. And later in the fall, some sort of international travel to a place yet-to-be-determined.
Images via Unfancy | French Connection