It's spring!  And we know that because it's hot and rainy.  Blech.  Oh well.  This is what I've been doing of late:
[tsmall text="reading" align="left"]
I was almost done reading Americanah by Chimamanda Ngozi Adichie when the lending period on my library app ran out.  I had to wait almost a month before I could read the last chapter.  Frustrating!  But I really did like the book, especially because it made me think about race in a different way and understand some of my Nigerian friends better.
Later, when time was running out on Purity by Jonathan Franzen, I had to do a marathon reading day to get it finished before the lending period ran out.  Whew!  I'm almost dreading the next book becoming available because I am bracing myself for more marathon-reading.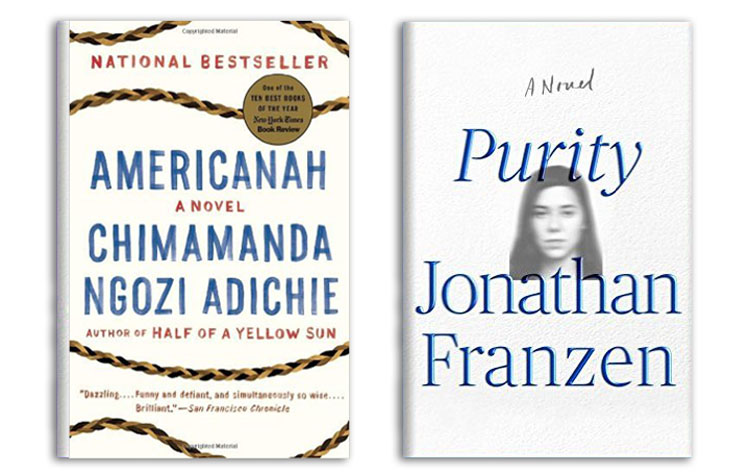 [tsmall text="Listening To" align="left"]
All the usual podcasts.  Also, NYC Popfest is coming up next weekend (I can't make it… boo!) and they have some great playlists here.
[tsmall text="Watching" align="left"]
I've actually recently stopped watching a few things.  I was watching some series which were just too dark and depressing so I decided to cut them out of my life.  The hubby and I are still working on Lost and we've also added Star Trek the Next Generation to the rotation although it's almost just a little too hokey but I suppose that's what makes it fun.
[tsmall text="Making" align="left"]
I've been sewing, sewing, sewing!  I trows to make a dress for a wedding last weekend but that plan crashed and burned.  But I have a few more sewing projects planned.  Also, there's that chair refinishing project…
[tsmall text="Discovering" align="left"]
Have you guys seen the Taste of Streep Instagram?  It is ah-ma-zing!  Vintage Meryl Streep photos combined with food.  I think the avocado toast is my favorite!
[tsmall text="Purchasing" align="left"]
I haven't bought much lately, except for the the aforementioned pink items.  I do have this tote on my wishlist.
[tsmall text="Anticipating" align="left"]
We just got back from a weekend in Philadelphia which was a first for both of us.  We loved it there! Lots of public art, cool eateries and such. Photos will be coming soon.
So now I'm anticipating a trip to Rockport and camping trip later this month.  The first camping trip we went on as a couple was in May of last year so perhaps this is becoming a tradition!  Photos of all will be coming to the blog soon.