On a recent Thursday evening, we adventured through Everett in search of Nightshift Brewery. We had an address but second-guessed it when we found ourselves driving down a dirt road in the middle of a construction zone. Even after parking it wasn't obvious where to go and we wandered through an industrial garage, finally opening an unmarked door and discovering a brewery in full-on tasting mode.
The cramped entry was decorated with owl figurines (night owls) and the small bar was serving up goblets of Nightshift beer, brewed on the premises.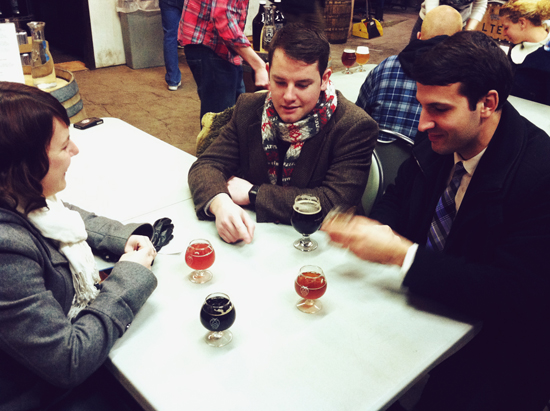 We tasted a flight of four beers: Marblehead, Bee Tea, Bean Porter, and Jo-Jo, a hibiscus beer which was pink!
We ended up walking out with two: The Bean Porter which was dark and heavy but surprisingly drinkable. It is fermented in bourbon and rye whiskey barrels and infused with vanilla and coffee beans. The second beer, which comes in cans, was the Marblehead. It is a collaboration with the Marblehead Salt Co. (how have I never heard of this?) with caramel malts and vanilla beans. I suppose it should be no surprise that we ended up with coffee and the salt beers, two of my favorite flavors!