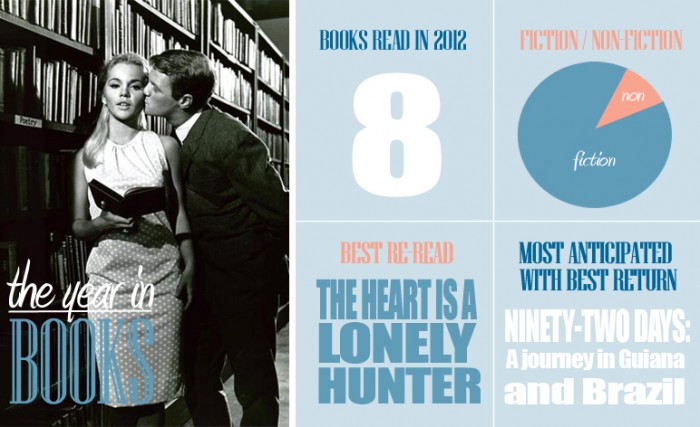 at the end of 2010, i wrote of my disappointment in myself for reading so few books that year and vowed to do better.  2011 was a banner year of reading and i created a nifty chart to celebrate my reading prowess.
i started 2012 with lofty goals but not far into the year, i forgot to even record what i had read.  so when it came to make my list, i came up with s dismal  4 books read and began drafting my apologies.  however, the longer i thought about it, i came up with another 4.  huzzah!
.  ninety-two days: a journey in guiana and brazil, evelyn waugh
.  the family fang, sarah gruen
.  the invisible ones, steph penney
.  the ventriloquist's tale, pauline melville
.  alice i have been, melanie benjamin
.  the heart is a lonely hunter, carson mccullers (re-read)
.  when we were orphans, kazauo ishiguro (re-read)
.  the snow child, eowyn ivey
and still sitting by my bedside, only half finished (or perhaps a little more):
. savage beauty: the life of edna st. vincent millay, nancy milford
. henderson the rain king, saul bellow
. and so it goes- kurt vonnegut: a life ,charles j. shields
. brideshead revisited, evelyn waugh (i'm even having trouble making it through the miniseries)
"ninety-two days" is highlighted as the book i waited the longest to read and which did not disappoint, primarily for the personal connection i have to the material.  you can read my review of sorts here.
so there you have it, my list!  not too shabby…
i promise to not make any literary promises for 2013 except that whatever i read this year, i will enjoy it.  and you can take that to the bank!