When I announced that I was going to take up a slower blogging regime, I had no idea how slow it would be!  It really is amazing to me that I went from having a wealth of ideas of things I wanted to share on this blog to being almost completely empty.  Perhaps its just a matter of being out of the habit.  These days, it really takes concerted effort for me to come here and create a new blog post.  But today I was in a reflective frame of mind and I felt like a little check in might be just the thing.
Reading
I've really gotten into reading a lot more lately.  Besides impulsively picking up Elizabeth in a local cafe with a lending library, I also have been reading as much as I can on a free subscription to The New York Times Magazine and the New Yorker.  I love immersing myself into another person's story and find myself drifting from the fascinating story of twins switched at birth to the devastating testimony of 35 women against an alleged abuser.  It really is the human interest stories which get to me.
Summer Time
Summer is always huge in New England, no question.  With volunteer work and work-work, we don't have a lot of free time but we take advantage of what we can, even if it's just a random Wednesday afternoon.  Recently we drove to Rockport for exploration, stopping at every interesting cove and hidden bridge we stumbled upon. We finished up at our favorite place for seafood, the Lobster Pool. Its BYOB and you can sit out at picnic tables on the oceanside and wait for your number to be called.

One Saturday, a friend invited us out on her boat. We sailed through Boston Harbor and docked at Spectacle Island and swam from the boat and grilled at the dock. After a spectacular sunset, we sailed back through the harbor and enjoyed the lights of the buildings and the ships.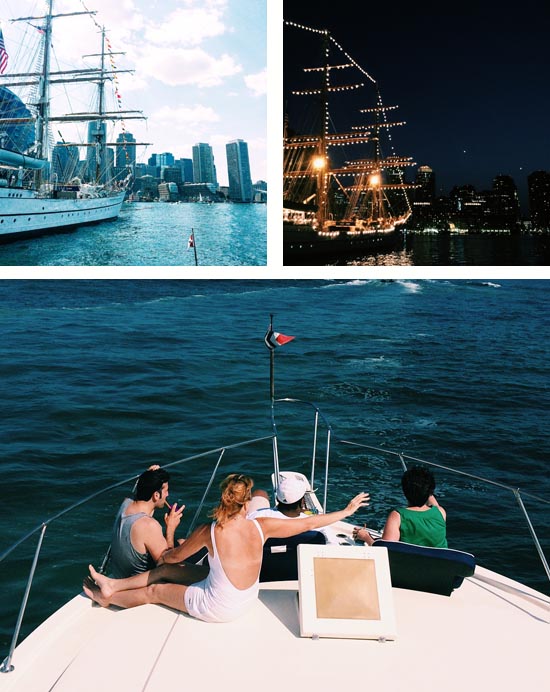 The much anticipated Portland trip happened as well and included a stop at Duck Fat for poutine, tomato fennel soup, and milkshakes.  We did a little shopping and finished off the evening with the always exceptional Decemberists.

I'm pretty happy with how this summer has been going so far, considering that we haven't actually taken a vacation.
But for all the "doing" and pretty pictures of activities, I think its also important to note that there's a feeling in the air that things are shifting. People are moving, or having babies, getting married, and making other big life decisions and it all adds up to this vague feeling that we're all waiting for the "next thing." But while Voltaire said "We never live; we are always in the expectation of living," I disagree. It is entirely possible to live– and live well– while waiting.