"So much emphasis is put on how beautiful you are and how thin you are and not a lot of emphasis is put on what you can do and how smart you are. I'd like to change the emphasis of what's important when looking at a woman." – Margaret Kilgallen
In writing my post on Clare Rojas and Barry McGee, A Ghostly Love Triangle, I tried to reference a previous post about Margaret Kilgallen and I found that, surprisingly, I hadn't done one. And sadly, most of the posts I had done on the Mission School of artists were in the batch that lost their images. This is a situation that I am here to rectify.
This movie clip featuring footage of a very young Margaret Kilgallen tagging trains really brought home to me that what Kilgallen was doing was all about feminism, recognizing the accomplishments of women who had been marginalized by society at large. And she chose to do this in a very male-dominated arena, that of the graffiti artist.
The women who were Kilgallen's muses and who she featured in her graffiti were unsung folk heroines who have been largely forgotten today. They were achievers in a world which did not expect much from them and in avenues not often open to women.
Matokie Slaughter (1919–1999) was an American banjo player. She performed with her family on local radio in the 1940s. Later she formed her own band called Matokie Slaughter & The Back Creek Buddies and they performed well into the 1990's.

Fanny Durack (1889–1956) was an Australian competition swimmer. From 1910 until 1918 she was the world's greatest female swimmer of all distances from freestyle sprints to the mile marathon.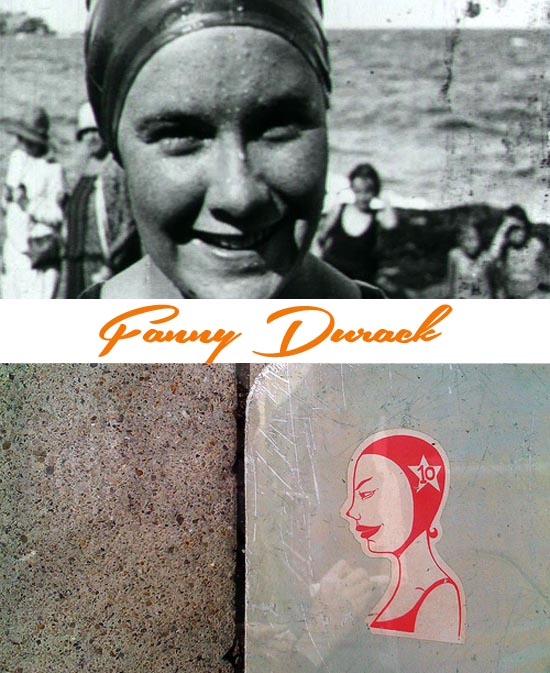 Algia Mae Hinton (1929– ) is an African American blues guitarist and vocalist. She has performed at several folk festivals and has become known for her guitar playing and her buckdancing, often playing her guitar behind her head as she dances.

Killgallen described the women who appealed to her as "people who do small things" but in a time in which they did them, even these small things were an act of bravery.